Earlier in the week, you may have heard of the demise of the Attunemen and his not so trusty horse. Loot is as follows:
[item]Whirlwind Bracers[/item] - Wakaraina
[item]Gauntlets of Renewed Hope[/item] - Anathamon
We also downed some wierd dog thing and an annoying bat. They dropped some items that aren't really worth mentioning, but they dropped!
After another few attempts, or some might say, a little more than a few, we finally got Moroes. Don't ask me what a rogue is doing in the dining room/servant's quarters. It must be a rogue thing. I do have proof however!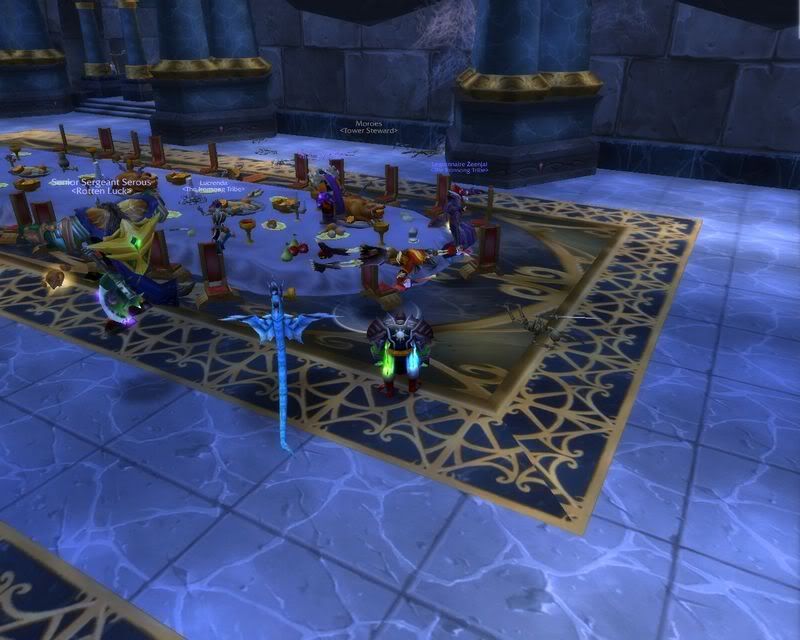 After that hard work, we had to wait for our armor to be repaired, so we sat down to enjoy a feast:
Then we partied... atleast... I did.
Rogues do steal somethings worthwhile!
[item]Emerald Ripper[/item] - Lucrenda
[item]Crimson Girdle of the Indomitable[/item] - Serous
Congratulations to everyone, I know I had tons of fun myself.
The Result of me being bored.